Roofing company owners often ask how to market a roofing company. As marketing consultants with a decade-plus of experience in helping local service businesses and contractors, we've distilled the best roofing marketing strategies for long-term success. You don't have to break the bank to boost your roofing business.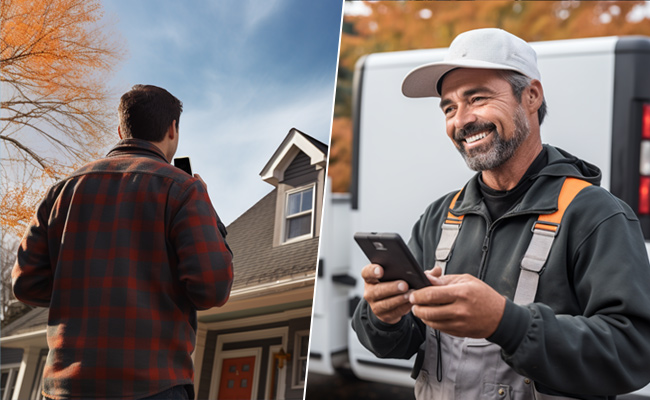 In this guide, we'll explore cost-effective roofing marketing ideas to increase your visibility and generate more leads. We'll focus on six efficient ways to maximize your time and resources in marketing your roofing contractor business and achieving a high return on your investment.
1. Claim Your Business on Google Maps
First and foremost, if you haven't already, claiming your business on Google is a crucial step, given it's the #1 search engine in the world. Signing up is free and enables you to provide essential information that potential customers can use to find and contact your company. 
When people search for your roofing business on Google, having an optimized Google Business listing ensures your company appears prominently. Achieving a top three, first page on Google as a roofing contractor can double or triple the number of daily leads you get, according to Hayley Mace of Roofing the Villages Florida.
To get started, make sure your Google Business listing includes:
Your business name
Phone number
Address
Website
A concise description
Relevant business category
Your services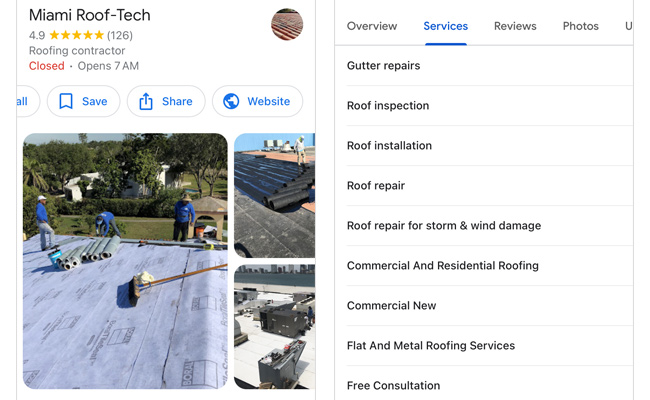 Once claimed, you can optimize your profile and do Local SEO to propel your business to the top of Google when customers search for roofing contractors. Our marketing team can help if you don't know how to accomplish this.
2. Start a Referral Program
In today's digital age, word-of-mouth advertising remains powerful. To harness its potential, create a referral program encouraging satisfied customers to spread the word about your exceptional roofing services. To make your referral program effective, follow these steps:
Make it easy for homeowners to understand.
Create a dedicated webpage on your website explaining the referral process.
Encourage satisfied customers to provide feedback, reviews, or testimonials.
Promote positive feedback in emails, social media posts, and web pages.
By offering top-quality service and showcasing positive feedback, you give customers compelling reasons to refer your roofing business when their friends or family are in need.
3. Answer Your Customers' Questions with Content
Your website content strategy plays a pivotal role in marketing your roofing company. Relevant content your customers need to know can add hundreds or thousands more monthly visitors, according to Austin Ewing of Atlanta Commercial Roofing Contractors.
Create a blog or FAQ page that comprehensively addresses your customers' commonly asked inquiries, leaving no stone unturned. For instance, if someone asks, "What's the average price of a roof?" you can provide a detailed answer. Tailor your content to address questions such as:
Which roofing materials are best for my home?
Should I repair or replace my roof?
How can I maximize my insurance claim?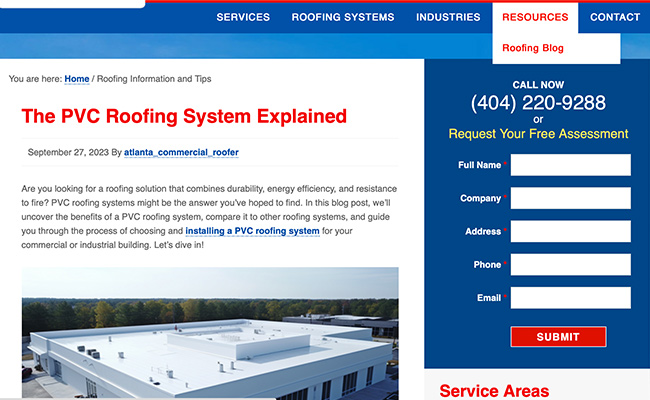 To determine many of their questions and capture customers' attention, use free keyword research tools to identify phrases and keywords they might use when searching for roofing services. Useful keyword research tools include:
Google Keyword Planner
Moz's Keyword Explorer
Ahrefs
SEMRush
Long Tail Pro
Keyword Spy
KWFinder
Incorporate these keywords naturally into lengthy, informative blog posts and articles. Offer valuable insights to keep your audience coming back for more roofing-related information.
Following these roofing marketing strategies can enhance your company's visibility, reputation, and, ultimately, your success in the roofing business.
4. Organize a Monthly Email Marketing Campaign
Don't underestimate the power of email marketing for your roofing business. Many customers and potential clients check their emails regularly and appreciate staying updated on offers, tips, and industry information. 
Email marketing provides an excellent opportunity to connect with your audience, build trust, and yield one of the highest ROIs in digital marketing due to its low cost. To start:
Focus on collecting email addresses from your client list.
Offer incentives like small discounts or free guides to encourage sign-ups.
Commit to sending at least one monthly email newsletter.
However, executing email blasts requires finesse. Sending generic emails to all your subscribers can be ineffective and yield a negative ROI. Instead, tailor your emails based on subscriber behavior for a personalized touch. 
This strategy consistently boosts sales for roofing companies across the U.S. The connections you forge through email marketing can help you convert leads into loyal customers, establishing your business as a trusted industry authority.
5. Direct Mail Flyers and Postcards for Seasonal and Weather-Related Promotions
Roofing businesses often experience seasonal variations in demand, and using print media, such as flyers and postcards, you can leverage and piggyback on the seasonal weather patterns in your advertisement campaigns.
For example, showcase photos of roof damage caused by hail and storms during storm season to entice homeowners to prepare for the upcoming season by hiring your roofing company.
Mailed postcards and door flyers can be an economical way to spread the word about your new roofing business in local neighborhoods. This cost-effective advertising won't strain your budget as you attract new customers.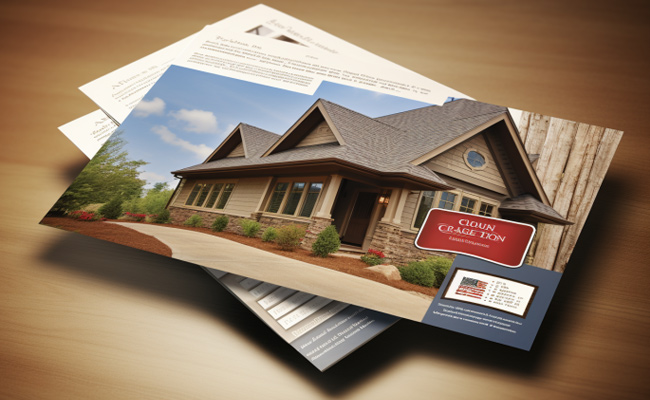 We suggest Atlanta print shop – clashgraphics.com for this type of printing and direct mail, allowing you to target specific locations or neighborhoods where you've recently completed projects.
6. Explore Different Marketing Channels and Platforms
Marketing channels vary in purpose, pricing, contract terms, and impact. To determine the most effective channels for your roofing marketing strategy, consider the following factors:
Impressions (how many people see your content)
Long-term and short-term Return on Investment (ROI)
Cost & Contract terms (one-time charge or monthly subscription)
Leads produced (converted sales or appointments)
Time required for management (business or owner involvement)
Effectiveness for roofers on average
Consider using the following marketing channels and service provider advertising platforms:
Google Ads
Facebook
Yelp
Angi
Thumbtack
Door knocking
Direct mail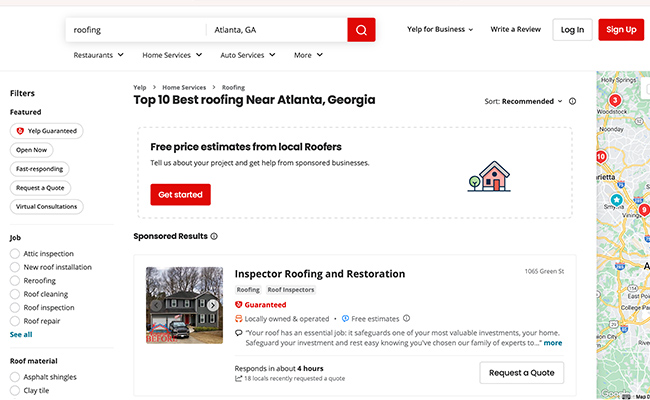 Each above advertising platform produces different results. However, they all rely on your business having an outstanding reputation. In the modern marketing era, customer reviews and public opinion on your company are critical, as online reputation and branding have become business priorities.
Each of the above platforms effectively generates new leads, but consider the factors most important to your business and allocate your marketing resources most effectively.
Final Thoughts on Roofer Marketing
Marketing your roofing business can be overwhelming due to the plethora of options and lack of certainty about what will work. The effectiveness of each strategy depends on factors such as your brand reputation, location, and experience. To make the right choices, it's crucial to understand the ins and outs of all available marketing options to the roofing industry.
Additionally, researching your competitors' strategies can provide valuable insights into what works in your specific market. If you need assistance optimizing your roofing company's marketing strategy, don't hesitate to contact us at Web Consulting & Marketing. We specialize in helping roofing businesses like yours succeed in today's competitive landscape.